As we approach the end of 2023 and look forward to 2024, we're helping teams leverage their remaining budgets to prepare for success in the coming year.
ExtendMed's Amy Ravi shares three innovative strategies to help you make the most of your budget and prepare for the year ahead.
We've summarized the key points from the video below. If you prefer, you can jump to the full transcript.
Get in touch with us to discuss these and other ways to leverage your remaining budget and maximize ROI.
1. Congress 1:1 Executive Encounters
Coordinating team meetings at onsite congresses can be a logistical challenge. However, this process becomes seamless with ExtendMed's Health Expert Connect™ platform.
Our platform offers:
Efficient calendar setups.
Opportunities for thought leaders to schedule meetings at their convenience.
Automated reminders.
Inclusion of your medical affairs and commercial teams in scheduled appointments.
Learn more about our congress planning solutions »


2. Virtual Advisory Boards
Traditional onsite advisory boards can be costly and time-consuming.
Virtual advisory boards, on the other hand:
Cost about a fifth of onsite boards.
Require less time and planning.
Offer more convenience for your advisors.
Allow engagement with a broader audience, such as allied health professionals or community clinicians, providing a chance to gather diverse insights.
Learn more about our virtual advisory board solutions »
3. Online Journal Clubs
We help teams engage directly with healthcare stakeholders on topics crucial to their brands by establishing and conducting online journal clubs.
Our platform:
Facilitates discussions on new study data or competitor information.
Enables content sharing with a select group of peers.
Promotes peer-based discussions, allowing for valuable insights and feedback.
Contact us to learn more about our journal club solutions »


Transcript
I'd like to share with you three ideas for leveraging your full budget and preparing you for the year ahead.
The first idea is setting up congress executive encounters. We all know what a logistical hassle it is to coordinate meetings for your team members at onsite congresses.
ExtendMed's Health Expert Connect platform can help you with setting up the most efficient calendars, giving your thought leaders the opportunity to book a meeting at a convenient time for them, sending them reminders and including your team on every calendar appointment that's been set.
A second idea is to conduct virtual advisory boards. These meetings come at about a fifth of the cost of a regular on-site advisory board. And they can be done with less time and planning. Certainly, they're more convenient for your advisors.
And it gives you an opportunity to address other audiences that you might not otherwise be engaging with. For example, allied health professionals, perhaps a group of community clinicians. So you can expand the audience of who you're collecting insights from at a fraction of the cost of onsite advisory boards.
And my third idea to share with you today is to conduct online journal clubs. This gives you an opportunity to engage specifically with healthcare providers on topics that are important to your brand. So whether you're sharing articles about new study data or perhaps sharing information on the competition, you have the opportunity to provide this content out to an invited group of peers and allow them to have the opportunity to engage back and forth and have a peer-based discussion on the platform. You can take these insights and have follow-up actions from them. It really gives you the opportunity to engage with a group of healthcare providers and get their insights.
So, thank you. I hope you'll consider some of these insights, and we would love to set up the conversation and we would like to set up a conversation with you to share these and other ideas for using Health Expert Connect™ to advance your initiatives in 2023 as you prepare for 2024.


Let's plan for a successful 2024 together
ExtendMed's Health Expert Connect™ allows KOLs and other healthcare stakeholders to participate in lively and productive engagements with their peers when it's convenient for their schedules via asynchronous engagement in virtual discussion boards, journal clubs and other online activities.





ExtendMed differentiates Health Expert ConnectTM from similar platforms by focusing on both synchronous and asynchronous interactions and engagements, from curated, synchronous live or virtual meetings with interactive features to asynchronous surveys and discussion boards. This combined approach to engagement offers some wholly new capabilities that teams find both convenient and extremely valuable.

Visit pages.extendmed.com/solutions for a quick look at our solutions, and how we empower teams to have richer engagements with each of their stakeholders. Want to get in touch with questions or schedule a free platform demo? Contact us.

📄 Want some more food for thought? Check out our free white paper below and get seven strategies pharmaceutical commercial teams are using to better engage patients—and tips on how to deploy them yourself.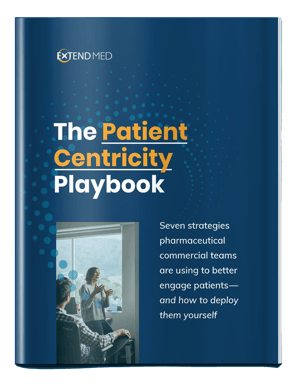 📄 Free White Paper
The Patient Centricity Playbook
Seven strategies pharmaceutical commercial teams are using to better engage patients—and how to deploy them yourself