In the lead-up to a new drug launch, medical and commercial teams have a lot on their plate. Their prime objective: ensure the messaging they've crafted resonates with each key stakeholder audience, including patients, HCPs, payors, and potentially many more (or several segments within each category).
Despite being so critical to the success of the product—and the reputation of the company— budgetary pressures and competing priorities can make it difficult to engage these audiences as early as you ought to.
When engagement comes too late (or in extreme cases, not at all), you can find yourself in the unenviable position of having to build relationships with KOLs and educate their markets about a new product too close to (or even after) launch. This can directly undermine the entire commercial strategy in the crucial early days of the product.
Any delays in prescribing efficacious new treatments can mean an opportunity cost of millions of dollars for the business and serious ramifications for patients in need of the therapy.
This is why it's critical to engage and educate all of these groups early enough in the pre-launch phase. The earlier teams can build these relationships, the faster those relationships can bear fruit for both the company and patients.
No matter how big or small the company is—or whether it's the first or fiftieth product it's bringing to market—the salesforce ought to have the proven messaging and established relationships it needs to hit the ground running immediately following approval and launch.
This, as we just briefly mentioned, is easier said than done. So, let's linger on the challenge of early audience engagement for just a moment before outlining some solutions.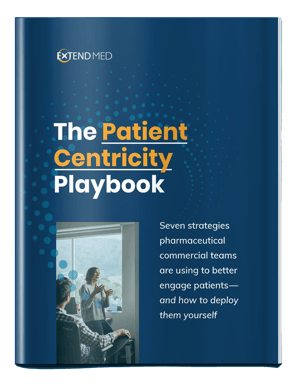 📄 Free White Paper
The Patient Centricity Playbook
Seven strategies pharmaceutical commercial teams are using to better engage patients—and how to deploy them yourself



The biggest obstacle to early engagement
One of the most frequent obstacles we've seen impede companies from engaging these audiences early enough is a prolonged focus on the earlier clinical aspects of the product's R&D when that focus ought to shift—quite decisively—to commercialization.
Given how much time, effort, attention, and resources are invested in clinical studies, it's not surprising that pharma teams find themselves tacitly fixated on exciting clinical details at the tail end of their research.
But in the pre-launch phases of the product lifecycle, it's important to shift the focus and prioritize readiness across several areas that demand thoughtful, organized strategy and execution. These areas include:
manufacturing;
prescribing;
insurance coverage, and
patient awareness.

To orchestrate these critical activities early enough, it's useful to ask what specific steps you need to take to ensure preparing stakeholders is a priority.

Some companies may consider a single advisory board meeting enough to get the word out about their new product, but most products will need much more engagement across several audiences.


A single meeting may not be sufficient to convince a group of advisors that your solution is a viable option to explore, and may be easily forgotten by the time the product is approved by the FDA.


By the same token, this approach does not offer ample time to answer, for example, all physicians' questions or address concerns about potential risks from the treatment.


Virtual advisory boards offer a distinct advantage in these areas, as they can enable more frequent, economical engagements, allowing you to take your time in building relationships with stakeholders.

With a technology platform purpose-built for facilitating and better managing these specific types of engagements, you can generate awareness, answer more questions, and even have the opportunity to test messaging to see if it resonates long before launch.

How to engage stakeholders at the optimal time—a process-driven approach
For many companies, roughly one year prior to getting FDA approval is the optimal time to begin preparing commercial advisory boards and other engagement vehicles as the company will likely be putting together its plans for building its sales teams and MSLs, and starting to bring an outreach strategy to life.
A series of convenient, cost-effective virtual ad boards with each group of stakeholders can be a more efficient and fruitful alternative to traditional, in-person ad boards that might occur once or twice a year.
💡 Here's some high-level guidance on what such a process entails:
⟶ To begin the planning process, create three small groups of stakeholders segmented by community: 1) patients, 2) payors, and 3) HCPs.
⟶ Next, create a plan for reaching out to these groups at regular intervals, such as by hosting an ad board each quarter.
⟶ Consider how you could restructure your contracts to accommodate a digital engagement format that replaces one or two physical engagements a year with fewer, more convenient, and insightful digital engagements using asynchronous discussion forums, surveys, and other convenient formats that enable individuals to engage with content on their own time and provide space for thoughtful answers.
⟶ By systematizing this outreach process, you can also save time by contracting for the entire period, instead of creating a new contract each quarter.
---
📄 Read our other guide, How to Run an Effective Advisory Board Meeting in 2023, to zoom in on this process and get practical, specific advice on shifting to a virtual ad board model.
The biggest benefit of regular, planned engagements
This segmented, higher-frequency approach offers a huge advantage that holistically and efficiently helps you achieve your end goal of refining your messaging and building connections with stakeholders for a smooth and rapid market entrance.
In short, it creates opportunities for stakeholders to regularly learn from their peers and compare experiences—bridging the gap between research and clinical practitioners, which may be a unique and valuable opportunity for them.
Regular engagements facilitated through a convenient digital platform can quickly build a sense of community, trust, and familiarity both within groups and between them.
The company, in turn, can identify patterns, such as common concerns about their product or obstacles KOLs have to overcome. Sometimes, you may even uncover common obstacles for one of your groups regarding another group. Since you can host more frequent interactions, you have the opportunity to discuss these at the next meeting and between them.
This process allows stakeholders to begin to drive their concerns as you identify new priorities for your company. For example, if you find that there is concern among physicians about getting electrocardiograms approved by insurers at the rate that is necessary, you might discuss this in your next meeting with the payors group.
In following this process, the company can uncover both data and insights that can inform messaging, as ExtendMed's Amy Ravi explains below.


"It's not only gathering all this data, but also the testimonials almost, the understanding of all the constituents in a way that is relevant.

So you have both the data and the safety and the efficacy of a product and how you've done that in different clinical trials with the right audiences and right patient groups and so forth.

But then you also have the people who have expressed that this is a need: '20% of my patient population fits into this group, and we're not currently treating them.' You can have some of the evidence that you've collected with these different target groups, who are going to be your future community.

That can be beneficial in how you reflect your responses back to the FDA and to your time, you know, your future sales opportunities."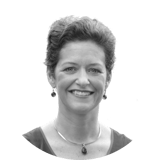 — Amy Ravi, CEO, ExtendMed
By the time you're ready to launch, the company already has stakeholders who are educated about your product, know the need, and have had a chance to test that with some of their peers.
They've had the opportunity to discuss the best use cases, how to mitigate risk, and other concerns, so that they are comfortable not only with thinking about and using their product for their own patients but spreading the word with their peers.


How ExtendMed helps pharmaceutical companies engage KOLs earlier
From the very first step of identifying diverse groups of people you want to work with, ExtendMed helps you shift your contracting to:
engage them across the entire year—or however long your engagement period is;


pull together different communities of people for different purposes throughout the year, and


provide all the tools you need to solicit rich insights from them.
Teams using ExtendMed build out their advisory communities for each particular objective and systematize the process of contracting and communicating with them through live, virtual meetings and over time through a suite of ongoing engagement tools like discussion boards, surveys, and more.
With ExtendMed, you can:
Host a virtual ad board, a steering committee, or a clinical study update meeting for participating sites around the globe.


Leverage educational content across regions, professions, and specialties. Manage faculty, curricula, multimedia, content, and certification in one platform.


Share information with stakeholders in different formats to suit each individual's content consumption preferences.

Track how many participants have engaged in each of your activities in your portal through a simple reporting dashboard.
(The list keeps going here.)


Ready for better engagement pre-launch? Let's start the conversation.
Our goal is to help you have richer and more frequent engagements with each of your stakeholders, at a lower cost.
Visit pages.extendmed.com/solutions for a quick look at our solutions, and how we empower teams to have richer engagements with each of their stakeholders. Want to get in touch with questions or schedule a free platform demo? Contact us.
📄 Want some more food for thought? Check out our free white paper below and get seven strategies pharmaceutical commercial teams are using to better engage patients—and tips on how to deploy them yourself.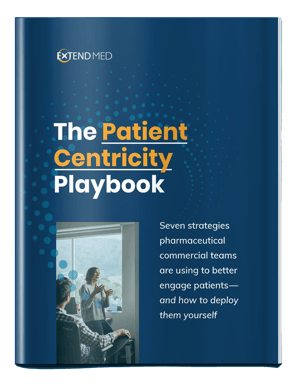 📄 Free White Paper
The Patient Centricity Playbook
Seven strategies pharmaceutical commercial teams are using to better engage patients—and how to deploy them yourself